This meatball is not for the faint of heart. Try the meatball recipe "as is" as I promise the squash will deliver you from evil! Lol. Its the saving grace, a lovely accompaniment that deserves to be there... this al dente noodle stand-in that actually elevates the sauce to ethereal levels and somehow cancels out the guilty pleasures of pork sausage and bacon fat. You be the judge.
For me, the squash provided a sweet counterpart to the bold tomato gravy and decadent meatballs that had us all silently scarfing, nodding our heads and "mmmm-ing" in quiet contentment until our bowls were empty and our blissful eyes glazed with the indulgence of it. And because the squash wasn't a starch overload, we didn't zombie straight to bed afterwards in a scary carb coma. I could've even left out the crusty garlic baguette and been just as happy.
As with all my recipes, this can be made gluten free very easily, with a simple adjustments of GF breadcrumbs in the meatball.
Bolognese Meatballs w/Spaghetti Squash
by Chef Heather Mader
Meatballs:
1 lb ground turkey
1 lb spicy Italian pork sausage
1 egg
1/2 cup seasoned bread crumbs (or GF Breadcrumbs)
1 cup half and half, divided
1/4 cup freshly grated parmesan
1 tbsp fresh garlic, minced
1/2 tsp Italian seasoning
1/4 tsp garlic granules
1/2 tsp smoked paprika
1/2 tsp cracked black pepper
1/2 tsp sea salt
1/4 cup rendered bacon fat plus olive oil if needed
Sauce:
1 large carrot, finely minced
1 yellow onion, finely minced
1 stalk celery, finely minced
1 tbsp fresh garlic, minced
28oz can Muir Glen Fire Roasted Crushed Tomatoes
26oz box Pomi Organic Chopped Tomatoes
1/2 can tomato paste
2 cups chicken stock
2 packets Savory Broth chicken reduction (see note)
1 tsp paprika
1 bay leaf
1 tsp dried oregano
1 tsp dried basil
1/2 tsp garlic granules
1/2 tsp crushed chili flakes
sea salt & fresh cracked black pepper to taste
2 tbsp white balsamic vinegar (regular balsamic ok but will darken the sauce)
pinch of sugar if needed
1 bunch fresh basil, chopped reserving some leaves for garnish
1 Large Spaghetti Squash, seeded and halved
olive oil
salt and pepper
In a heavy, enamel cast iron pot melt bacon fat over medium heat. Combine all meatball ingredients including enough half and half to wet the breadcrumbs. Reserve the rest of the half and half. Lightly stir meatballs until just combined but do not overwork or overmix the meat. Use a small cookie scoop and fry meatballs in bacon fat, adding olive oil if needed to the pan, until meatballs are golden brown all over. Use medium heat and turn occasionally to avoid sticking.
When meatballs are cooked through and golden brown, pour 1/2 of the half&half over the meatballs and continue cooking, stirring with a thin metal spatula, very gently while scraping up the crusty bits from the bottom of the pan. Continue until the half and half is absorbed and turns into a thick brown sauce that clings to the meatballs. Remove meatballs and any sauce to a bowl and set aside.
In the same pan, add some olive oil over medium high heat and fry onions and vegetables until lightly golden brown. Then stir in garlic, tomatoes, tomato paste, chicken broth, chicken packet, spices and dried seasonings and bring to a very gentle simmer. Add meatballs and any accumulated sauce/juice to the pan.
Cover and simmer very gently over low heat, stirring occasionally careful not to break up the meatballs, for 45 minutes to an hour, tasting and adjusting seasonings and heat as needed. Sauce should be thickened and change to a deepened red color so adjust time accordingly. .
Meanwhile while sauce is cooking, drizzle cut side of spaghetti squash with olive oil and sprinkle with salt and pepper. Place cut side up in a 375 degree oven and bake for 1 hour. Allow to cool enough to handle.
To serve - use a fork and lift the flesh of the squash in long strands that resemble spaghetti. Divide into 4 portions. Stir fresh chopped basil into the sauce and spoon some sauce over the squash, add meatballs and top with more sauce. Garnish with fresh basil leaves, grated parmesan and more chili flakes if desired.
NOTES: Trader Joes and some grocery stores sell this Savory Broth reduction, which is basically a chicken demi glace. Its far superior to any chicken concentrate or bullion I've found, and has less sodium too. If you can't find or order it, I suggest trying "Better than Bullion" Organic Chicken bullion which is the next best thing. If you can't find that then leave it out. No yucky yellow salt bullion cubes.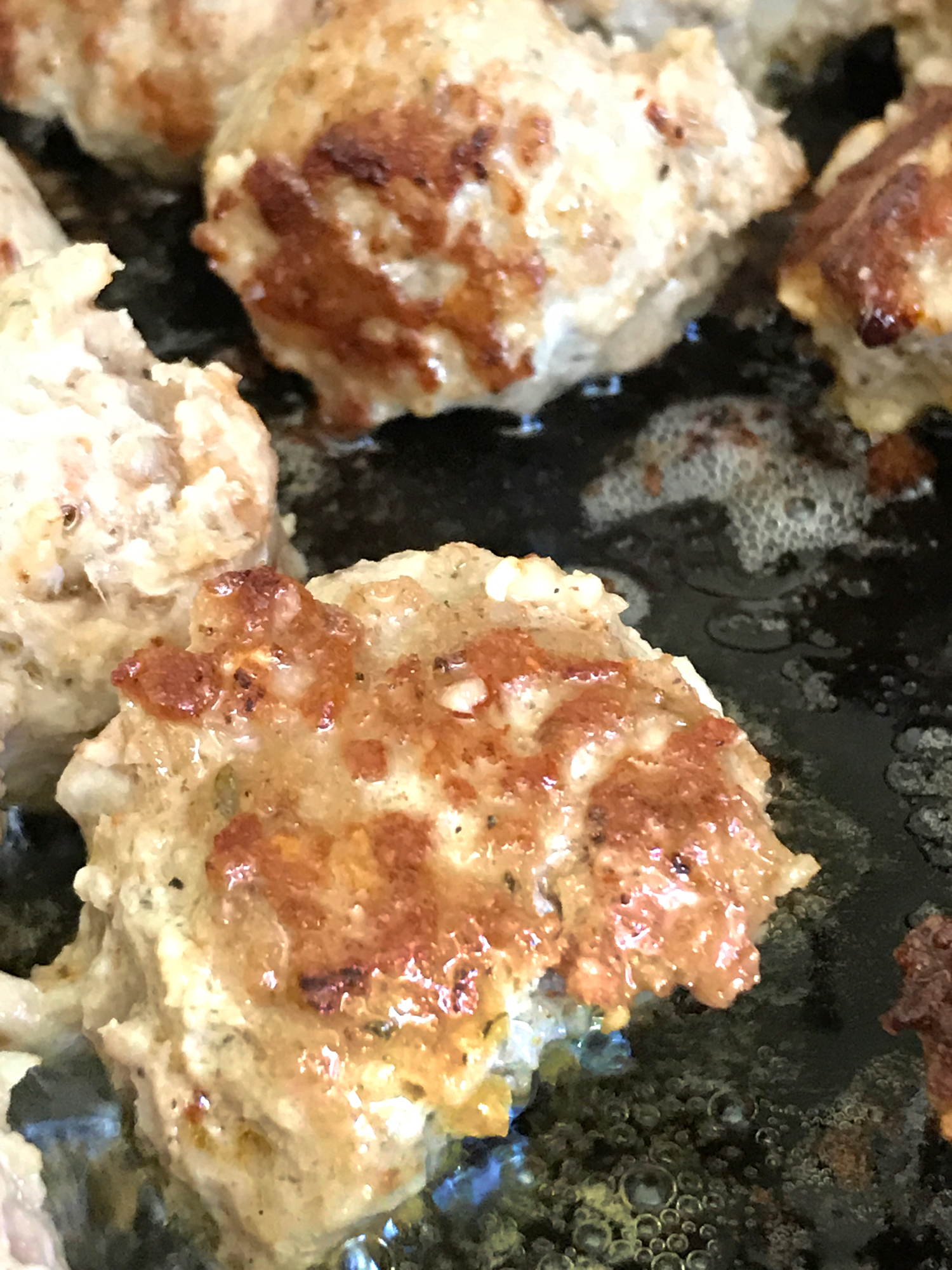 One of the successes of this dish is the slow and even browning of the meatballs in a little rendered bacon fat. Brown evenly, turning after each side reaches a golden color.