I love Mae Ploy curry paste, and the yellow version is no exception. Made with no MSG, no preservatives, no artificial colors it gets its signature flavor from lemongrass, shallot, salt, galangal, red chili, coriander, kaffir lime, cumin cinnamon, mace, turmeric and cardamom.
Paired with the creamy coconut milk, it simmers into a magic sauce that coats these little balls of meat that brings a warming comfort to the belly. I served mine with braised kale, because it made me feel better about the richness of the sauce. lol
Golden Curry Meatballs
by Heather Mader
Meatballs:
1lb ground chicken or turkey
3 cloves garlic, peeled and minced
1 inch fresh ginger, minced
2 tsp Thai Fish Sauce
oil
Sauce:
1 onion, finely chopped
1 cup fresh tomatoes, chopped
1 jalapeno, minced
3 cloves garlic, peeled and minced
1 inch fresh ginger, minced
2 cans organic coconut milk
1/4 cup Mae Ploy Thai Yellow Curry Paste + more to taste
salt to taste (or fish sauce)
1 tsp sugar
1/4 cup cilantro leaves
Steamed Basmati or Jasmine Rice to serve
Take ground turkey or chicken, garlic, ginger and season with fish sauce and form into 20 meatballs. Heat a little oil in a cast iron enamel dutch oven over medium heat and brown meatballs on all sides.
Remove meatballs from the dutch oven and set aside. Over medium heat add onion, fresh tomatoes, jalapeño, garlic, ginger and sauté until golden brown, scraping up the brown bits from the cooked meatballs. Cook until tomato mixture is dry. Remove 1/4 cup of the coconut cream from the top of the can, and whisk in with the yellow curry paste until smooth. Then add in the rest of the coconut milk, sprinkle with salt and sugar. Taste for spice level, adding more yellow curry paste if needed. (I probably use closer to 1/4 cup plus 2 tbsp)
Add back in the meatballs to the yellow gravy and slowly simmer, uncovered until sauce is thickened and coats the back of a spoon. Just before serving, stir in cilantro and serve over rice.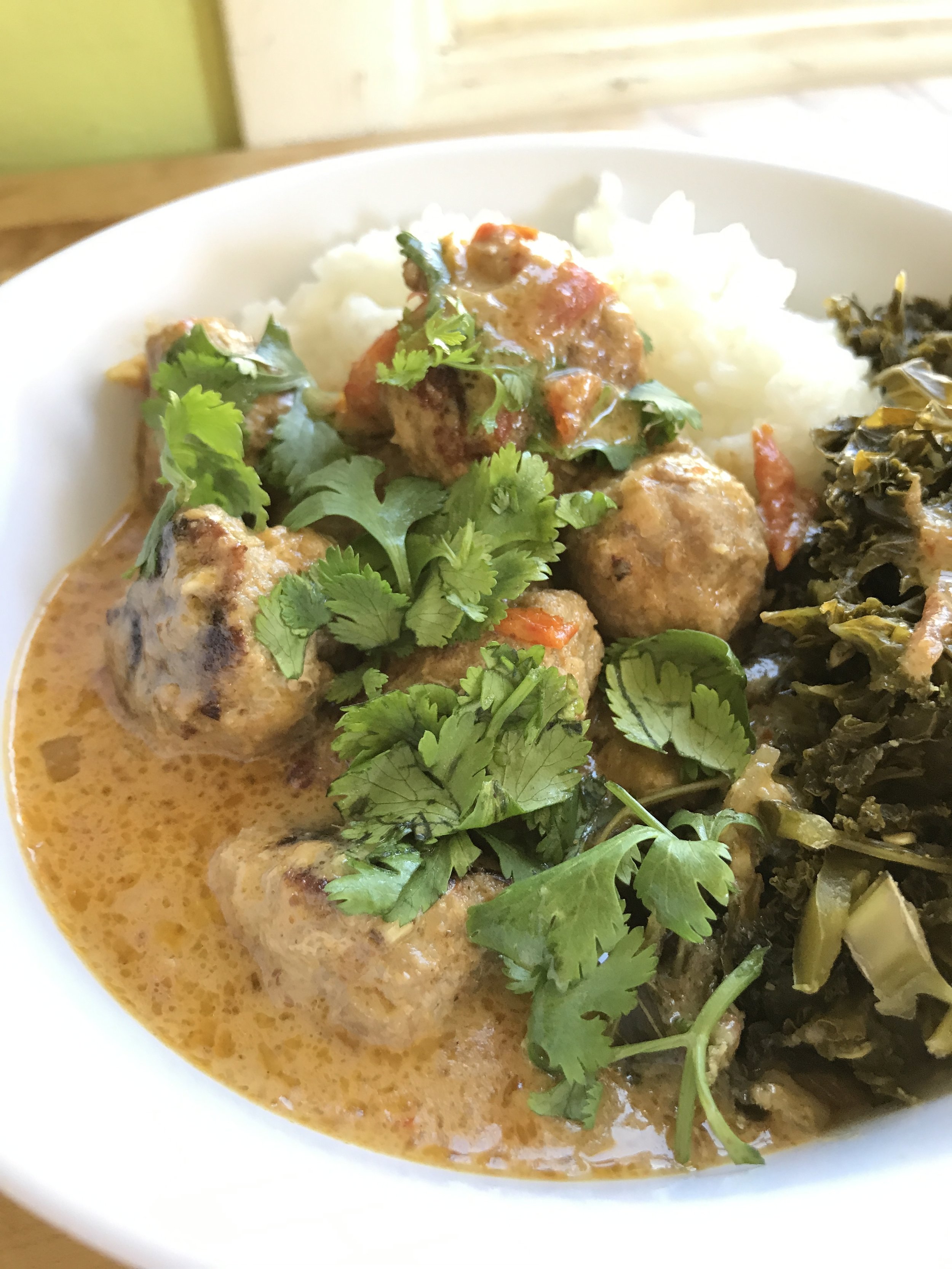 Would be great as a vegetarian meal with just the kale
Make sure the sauce has time to reduce and thicken, this develops the flavors